In the heart of a small valley to the east and at the foot of the rock of Saignon lies the ancient Benedictine Abbey of Saint Eusèbe. Tradition has it that it was founded in the early Middle Ages by Saint Matian, who lived there. The barbarian invasions took place a few years before the year 1000. The great Abbey dedicated to Saint Maurice and Saint Just was built. However, the first document to be confirmed is the foundation or restoration act dated 1004.
Robert de Vacaron, a powerful lord of Saignon related to the family of Saint Mayeul, founded the monastery of Saint Eusèbe. In 1032 Eldebert, Lord of Saignon, gave the Abbey restored by their family to the Order of Saint Gilles. Saint Odilon, Abbot of Cluny, took charge of it and installed monks there. In 1096, on the return from a council, Pope Urban II came to Saint Eusèbe and consecrated a church that had just been rebuilt. Saint Eusèbe became powerful and prosperous.
The nave is divided into three bays and covered with a broken barrel vault maintained by double arches that fall on pilasters on dosserets. Between these pilasters, along the side walls, are banded relief arches with double projections. A moulded cornice in the form of a doucine runs along the base of the vault. In the first bay was a vaulted tribune. It is this gallery that was recently extended throughout the nave, thus subdividing the building into two levels. Saint Eusèbe remains a precious witness to the only Benedictine Abbey established in Provence in Roman times. It is a simple building, stripped of all superfluous decoration, but robust and meticulous in its construction.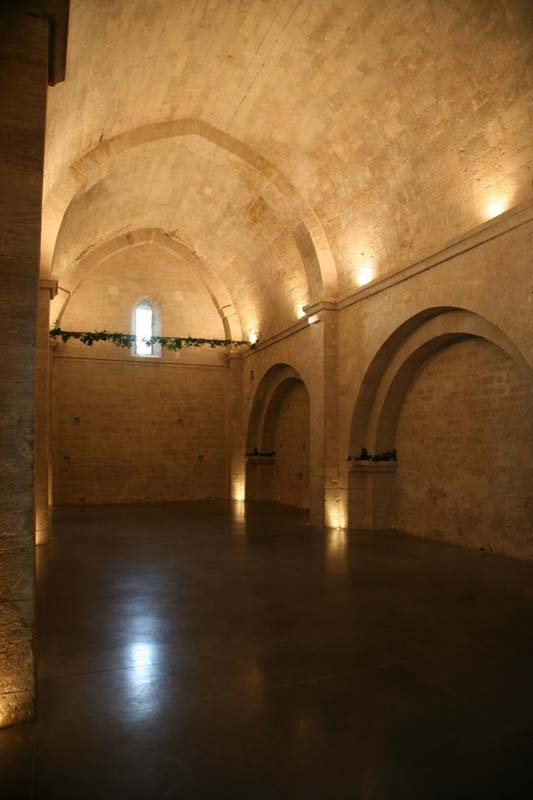 This estate has been passed down from generation to generation. In 1996 the Ribeiro family received the property from their parents, the Etienne family. Mrs Catherine and Mr Carlos Ribeiro are the fifth generation to own the Abbey. Mrs. and Mr. Ribeiro restored the Abbey in 1996 to revive this protected site, part of our historical heritage. The coming year will be a turning point for this family business, as 2017 marks 20 years of activity for Saint Eusèbe Abbey.